Power Rankings
Season XV – Week 5 (Author: Jamar Walker) - October 17, 2017
S15 -- Black ('Jordashians') 5 - 0:
Yes, this team is 5-0, and that's cute. But the more bad plays they get from the QB spot, the more likely Jordan is to lose what's left of his mind.  You'll know it when the octaves reach Mike Tyson level.  Ask Long Diep who's still recovering. Let's all hope that poor Lou doesn't end up like this:
S15 -- Safety Orange ('Whorange') 5 - 1:
Speaking of people doing stuff against their will, rumor has it that QB Scott Graham and Captain Steve Gong have been forced to change their team cheer to "M-V-P! M-V-P!"  I'd say that Cam shouldn't worry about being MVP because he has so many "haters" and those votes are largely a popularity contest.  But if Matt Pearce got one, so can you.  
S15 -- Baby Blue ('Look What Your Baby Blue') 5 - 1:
Live look at Adam Strasberg after running for a 60-yard score and a 30+ yard near pick six on Sunday: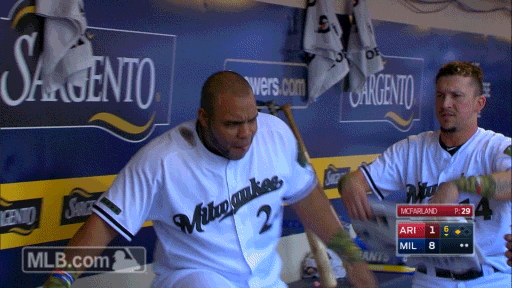 S15 -- Forest ('Katniss Everqueens') 4 - 1:
Captain Evan Binder has been impressive this season, filling up every corner of the stat sheet.  The only thing bigger than his stats right now is his overinflated sense of his talent.   
S15 -- Power Yellow ('Bananagrabbers') 5 - 1:
Mecha's out. Telemundo is reporting that Pedro Suarez also may be done for the season.  And Captain James Santos played with glasses because he had a few too many clients (I mean, ulcers) over the weekend. Oh, and Santos, because I'm such a great friend, I got you, boo:  
http://www.cosmopolitan.com/sex-love/news/a48402/dont-panic-heres-what-to-do-if-you-get-semen-in-your-eye/
S15 -- Sand ('SandJobs') 5 - 1:
Greg Carter did Greg Carter things in the clutch moments, and the SandJobs swept their doubleheader.  Of note was a breakout game from Jens Piferoen, whose sudden athletic burst has left us all wondering, "Does black in you rub off on you?"
S15 -- Orange ('Jacked O Lanterns') 4 - 2:
No Levert + No Nick = Obvious L.  As we near Halloween, I can't help but wonder when RJ Martin will stop masquerading as a quality QB.
S15 -- Power Blue ('Power Blue Pussy Whips') 3 - 2:
Kristin is the new Queen Bey of the DCGFFL.  Bobby is doing her best Kelly impression.  I was going to call Aaron Beck Michelle, but she's more like LeToya or LaTavia — completely replaceable.
S15 -- Graphite ('Diamonds in the Scruff') 3 - 3:
I keep saying this team is better than their record suggests, but they can't seem to all be on the field at once. Pham and Jim average 4 missed games/season. And Sean Holihan's absence because of his recent trip to Maine where he averaged 4 twinks/night didn't help either.       
S15 -- White ('Milk Me') 3 - 3:
Veteran slot receiver Paul Guequierre has won two MVPs this season, proving that you can teach an old trick new dogs. Strike that. Reverse it.
S15 -- Kelly Green ('Get In My Kelly') 3 - 3:
QB Kyle McKinney was serving Oprah realness on Sunday. You get a pick, you get a pick, you get a pick, EVERYBODY GETS A PICK!  Remember when he thought this team was good because they were feasting on the bottom of their conference?  Girl. Bye. In three loses, Kelly has been outscored 121-31.  I love so many people on this team dearly, but my thoughts on you making a deep run in the playoffs?
S15 -- Royal Blue ('Queens of WesterHOES') 3 - 3:
Kudos to the Commish for capitalizing on a short-staffed Orange team.  The only thing he's taken advantage of more this season: rookies.
S15 -- Teal ('Buns of Teal') 2 - 4:
This team (minus Randy) is perhaps the nicest group of individuals this league has ever assembled.  Has Lady Snight even made it to a game this season? Nothing says dedicated like a Board member who won't be playoff eligible.  
S15 -- Purple ('Plums Of Steel') 2 - 3:
Sam Brown was your MVP Sunday.  Sometimes the jokes just write themselves.  
S15 -- Slate ('AC Slaters') 1 - 4:
I blame our terrible team name for the bad luck we've had at the end of games. In every huddle before the game starts, "I'm so unexcited. I'm so unexcited."
S15 -- Gold ('GoldiCocks') 1 - 5:
As many times as I've seen QB John Boyd get pressured this season, I can't help but think that this team could really use three bears.
S15 -- Red ('Red THOT Chili Peppers') 1 - 4:
Just a few shorts week ago, Captain Drew Halunen had the option of picking up a premier player in the league in the supplemental draft, and instead chose…no one.  Someone remind her that tanking the season won't guarantee you the first pick in the draft next season.  Unless, of course, you wind up with QB Long Interceptions again…
S15 -- Pink ('Pink FlamingHos') 1 - 5:
I really do think this team, at full strength, has the potential to make some noise come playoff time.  That, of course, assumes BB doesn't decide to take another "spiritual" journey.  He has sort of become the Noah of the DCGFFL – takes boys 2 x 2 x 2.
S15 -- Navy ('Euron Gayjoys') 1 - 5:
QB Matt Cline, fresh off his lights-out performance in his Gay Bowl debut, was quickly reminded what it's like to have receivers who couldn't catch a cold standing butt naked in Antarctica (cough Baxter cough cough).  If only the football was a circuit party, he'd probably catch it.  The end of the road is near for this team, so I just have two words for you:
S15 -- Neon Green ('Green Eggs & D') 0 - 5:
It is my sincere hope that one day your group play on the field matches the quality of your group play off of it.